Tooth Extractions & Wisdom Teeth in North Delta
At North Delta Dental Professionals, our dentist performs endodontic treatments (root canals) to save an infected tooth. Extractions are reserved for when other options would be ineffective or compromise your oral health.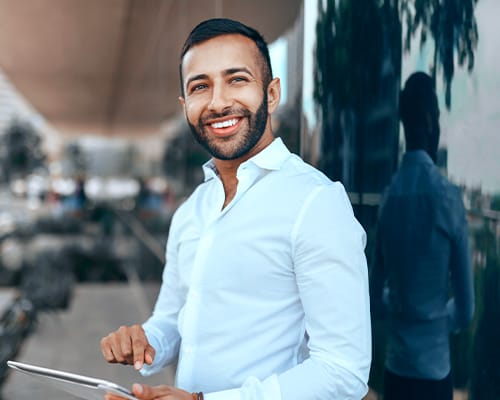 What are Endodontics & Tooth Extractions?
A root canal or endodontic treatment is a procedure performed in an effort to save a tooth from extraction. Teeth can become infected, and need to be cleaned, disinfected and filled with dental materials. Our dentist at North Delta Dental Professionals can complete this procedure to preserve your tooth and resolve painful symptoms. 
Extractions are also sometimes required and in these cases, we remove a tooth from its socket in the bone.  We reserve this procedure for when a less invasive option would prove ineffective, or if keeping the tooth would put your oral health at risk. 
What is Endodontics? 
Endodontics is the branch of dentistry involving tissues around a tooth's roots and dental pulp.
By performing a root canal or endodontic treatment, we remove and disinfect the soft pulp tissue on the interior of a tooth, to help stop an infection from spreading and preventing further issues. 
When a tooth becomes infected, it can cause serious pain, swelling, abscesses, and other symptoms. A root canal can resolve these and return the healthy function and appearance to your tooth. 
Thanks to pain medication, dental technology, and anesthetic options, root canals are much less painful today. Your dentist can determine whether you need a tooth extraction or root canal to resolve oral health issues. 
Tooth Extractions
While your dentist will likely work to save a tooth whenever possible, there are circumstances such as excessive decay, gum disease, injury, or problematic wisdom teeth which may make an extraction necessary. 
If one of your teeth needs to be extracted, your dentist will explain how the procedure will unfold and address any questions or concerns you may have before surgically removing the tooth. 
Wisdom teeth (the last set of molars to emerge in a normal adult mouth) may need to be extracted in cases where they only partially emerge, become impacted, or are crowding out other teeth. The dentist will also discuss tooth replacement options with you, which may include dental crowns, bridges, or dentures.  



New Patients Always Welcome
Looking for a dentist in Delta? We're happily accepting new patients at our dental clinic! Contact us to get started today.
Request Appointment
Hours
Monday:

08:00 am - 05:00 pm

Tuesday:

08:00 am - 05:00 pm

Wednesday:

08:00 am - 05:00 pm

Thursday:

09:30 am - 06:30 pm

Friday:

08:00 am - 01:00 pm

Saturday:

Closed

Sunday:

Closed
Quick Links