Our dentist offers traditional braces, the Damon System and Invisalign clear aligners as orthodontic treatment options to patients who come in for regular checkups at North Delta Dental Professionals.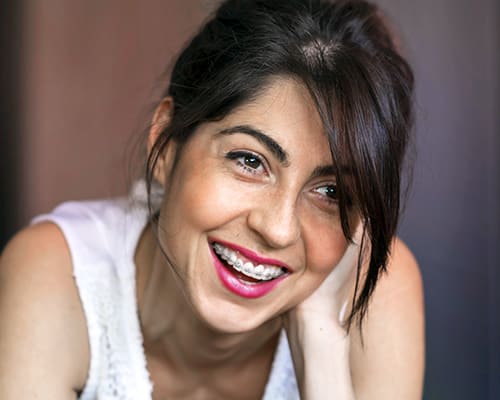 How Orthodontics Work
Whether we are working with a child, teenager, or adult, our objective is the same when it comes to orthodontic treatment – to straighten teeth so they look better and work better.
To achieve this goal, we use braces or the Damon System, which apply gentle pressure to your teeth to shift them into the correct position over months or years. 
Traditional Braces
For decades, traditional metal braces have been used to straighten teeth and resolve orthodontic issues.
In the last few years, advances in orthodontic treatment have brought us braces that are more comfortable, lower profile, and easier to care for. 
How Braces Straighten Teeth
Over time, braces put continuous pressure on your teeth and slowly shift them into their new, prescribed positions. 
As pressure is applied and your teeth move, the bone changes shape to accommodate your teeth's new positions. 
The Damon System
The Damon System™ helps us treat patients' orthodontic issues. It could also afford comfort and consistent results for your face and smile. 
The passive, self-litigating braces don't use metal or elastic ties, which can cause friction and pressure on your teeth. 
The light, high-technology shape-memory wires shift teeth in a safe manner. 
With this approach to treatment, we can align your teeth and enhance facial aesthetics by balancing your oral muscles. 
Invisalign Clear Aligners
With Invisalign clear aligners, your smile is gradually straightened using a series of individually customized, clear plastic aligners that are adjusted over a period of time. 
These aligners come with a convenience factor - you can remove them and people will have a hard time seeing them as they are straightening your teeth. 
They look similar to custom whitening trays and most patients find they are easy to insert. You can remove them to eat, drink, brush and floss. 
Invisalign can help resolve numerous orthodontic issues that can lead to sleep apnea and other conditions.
New Patients Always Welcome
Looking for a dentist in Delta? We're happily accepting new patients at our dental clinic! Contact us to get started today.
Request Appointment
Hours
Monday:

08:00 am - 05:00 pm

Tuesday:

08:00 am - 05:00 pm

Wednesday:

08:00 am - 05:00 pm

Thursday:

09:30 am - 05:00 pm

Friday:

08:00 am - 05:00 pm

Saturday:

Closed

Sunday:

Closed
Quick Links